This article was originally published on About Catholic Schools on 2 February 2018.
For the first time, St Joseph the Worker Catholic Primary Auburn South's Kindergarten students learnt what to expect of their new school from a close source – children their own age.
A handful of the school's current Year 1 students visited Auburn Montessori Academy in December to talk with preschool pupils starting primary school in 2018 about life at 'big school'.
The students, many who were former Montessori pupils, took part in activities, answered the questions of their preschool friends and read picture book First Day by Andrew Daddo with their Kindergarten teacher Rana Meldrum as part of the initiative to increase school readiness.
"It was good for them to show the younger ones that Kindergarten isn't so scary," she said.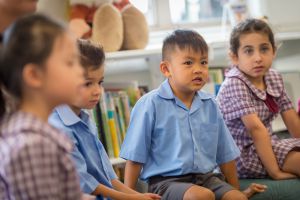 "The children talked about what they enjoyed at school. The preschool kids had a lot of questions and the children answered.
"I could say to them how easy Kindergarten is but they're not going to listen to an adult in the same way. This was more relevant to them."
Year 1 students Benji Eyers, Martha Kasule and Isabella Ghosn all took part in the visit.
"We told them about our school," Isabella said.
Benji said he liked writing and school. "It's big and we learn a lot," he said.
"We wanted to show them our school uniform," Martha said.
Principal Gai Melville also walked to Montessori with the students on the day.
She said the visit allowed them to build leadership skills and reinforce their learning of mathematical and other concepts by sharing what they had learnt with their former preschool teachers. It also gave the preschool pupils a chance to learn more about school life from children they knew and trusted.
"It has given them confidence this year."
"The preschool teachers were delighted to see how much the children had learnt since they had come to school," she said.
"It was a good experience for our children to begin to show leadership at that young age by going to the preschool and speaking to their friends and preschool teachers about what they have learnt and how they have grown.
"They [pupils about to start Kindergarten at St Joseph] recognised us from orientation. It continued to build that connection that helps them when they start school because they have a familiarity with us as staff. It has given them confidence this year."
This year, two-thirds of the Kindergarten students at St Joseph the Worker come from families new to the school.
Kindergarten students Vanessa Wong and Cooper Lai have settled into primary school life well.
"I love big school," said Cooper, who named drawing lessons and reading a book about a piranha as some of his favourite first-week activities.
"I was just so excited when I came to big school – I was smiling," Vanessa said.