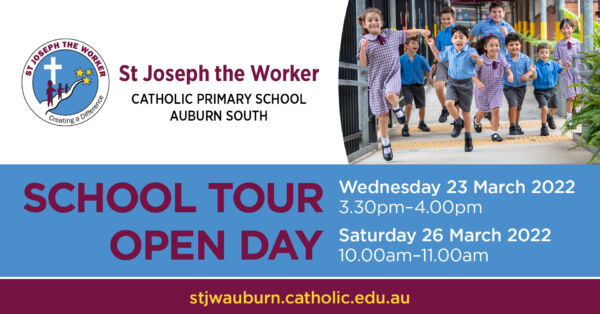 St Joseph the Worker Catholic Primary School Auburn South will be holding open days for prospective students and their parents or carers on 23 March at 3.30-4.00pm and 26 March at 10.00-11am.  This provides a perfect opportunity to learn more about our school and for your child to begin familiarising themselves with their new environment. Please contact the school for more information.
School Tours
Personal school tours with our principal are also available on request throughout the year. Please contact our school office on (02) 9646 1434 for more information and to book in for our Open Day or a personal tour.
Free playgroup every Thursday
Join us for playgroup every Thursday during school term from 9.00—11.00am. If your children are under five, you are welcome to attend. We provide stories, music, art and crafts for your child.  You don't need to be attending our school and it is free. Just bring a piece of fruit for the children to share, and we provide the coffee for you.  Please phone (02) 9646 1434 or email info@stjwauburn.catholic.edu.au
Take a virtual tour 
Can't make it to our open day? You can take a virtual tour of our school at any time. Join our students as they show you around our amazing facilities, see learning in action in our classrooms, and discover the St Joseph the Worker Catholic Primary School Auburn South difference!