This article was originally published on About Catholic Schools on 16 January 2019.
An Auburn South student has established herself as a scientist to watch after winning a 2018 NATA Young Scientists of the Year Award for a project focused on a supplement that helped her family.
Ioanna Kalergis' winning project focused on the medical uses of the supplement Resveratrol, and her thorough research included speaking to several experts in the field.
"A couple of months ago my grandfather was admitted to hospital and Resveratrol was one of the vitamins that helped him recover, that's why I chose to study it," Ioanna said.
"Resveratrol can be used as a vitamin and a medicine, and helps parts of the body like the brain, the liver, the lungs, the eyes, bones and skin. It can also be found in things like dark chocolate, red wine, cranberries, nuts and Japanese tea."
I'm very curious about how things work
Ioanna, in Year 6 St Joseph the Worker Catholic Primary School, was presented with her award for topping the 11-12 age group at a school assembly in December.
Principal Gai Melville said Ioanna is well-known in the school for her love of competitions – she's previously won colouring and writing awards.
"As a school we've been looking at goal setting this year and learning about what sort of qualities you need to be a learner," said Ms Melville. "We came up with three different qualities: [being] self-motivated, a risk-taker and reflective.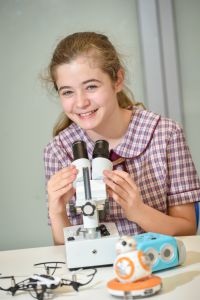 "Ioanna has applied all of those in her research and presentation. I think it helps too that our school motto is "Creating a difference". The person who invented the medication that helped Ioanna's grandfather created a big difference for her family."
Ioanna's prize includes $2500 to spend on new science equipment for her school, and she's asked Ms Melville that it be spent on a telescope, as well as some spheros – small, programmable robots.
Her choice was inspired by a science enrichment program she attended at Trinity Catholic College Auburn in Term 4 with other gifted classmates.
Ioanna will begin high school at Trinity in 2019, and she hopes to continue to indulge her love of competitions of all kinds.
"I'm very curious about how things work and how people can build buildings and technology, so competitions are really exciting and enjoyable for me," she said.